AVAILABLE FROM 2023
The 15X is the first fully electric model of the Eurocomach range, ideal for working indoors, underground construction sites or sensitive places where its low noise level and absence of emissions are particularly appreciated. In terms of autonomy, the 15X can reach the whole working day (8 hours), considering a fast recharge during the lunch break. The hydraulic oil (the only fluid on board) is strictly biodegradable and allows high performance with extremely reduced maintenance costs and times.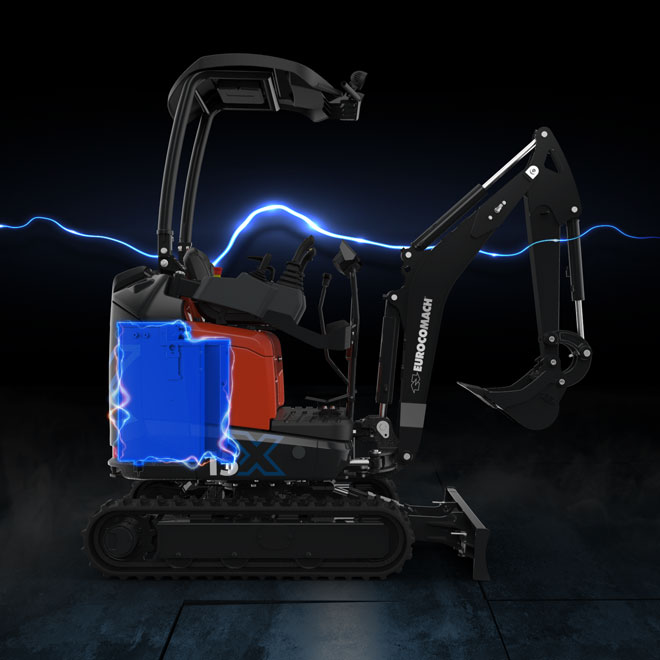 100% WORKING
The 15X is equipped with a 21.5 kW lithium battery perfectly integrated in the rear compartment. In the same compartment there is a useful power supply for domestic use (100% recharging in 10 hours). The fast charge function is possible only with an external battery charger (optional) which through the 380V mains, allows the battery to be recharged to 100% in less than 2 hours.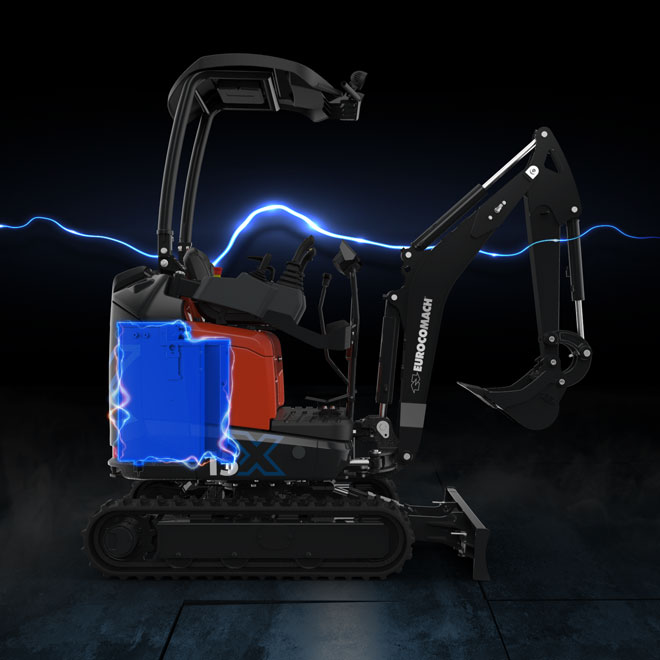 100% COMPACT
The short radius profile of the 15X, with a projection of only 150 mm, makes the machine really compact even in the most limited construction sites. The undercarriage and the blade can widen from 790 mm to 1.050 mm, allowing the 15X to comfortably cross even the narrowest entrances, also ensuring high stability and a complete mobility when the undercarriage is open.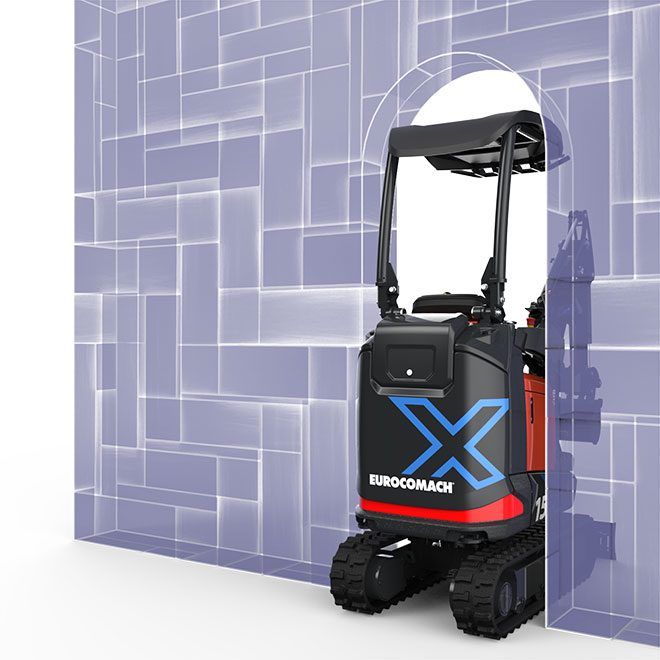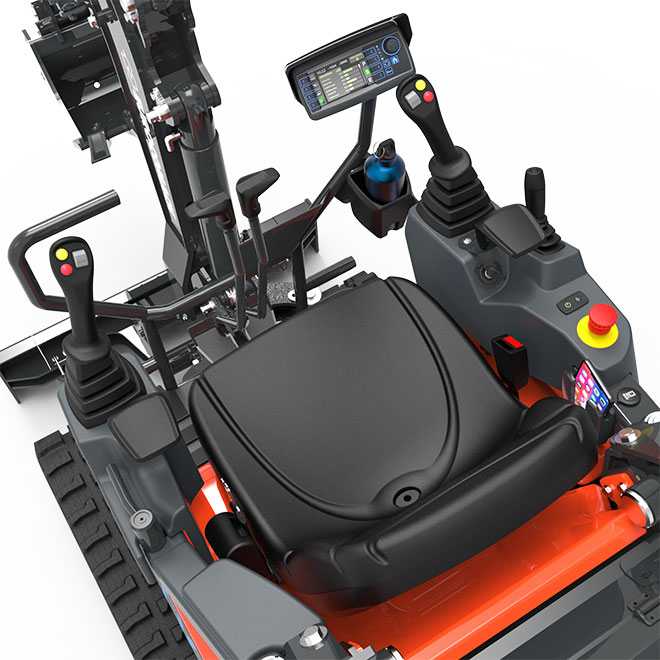 100% PERFORMING
The 15X is equipped with full electric controls which, through a modern control display, allow a full control of the machine. In fact, through the new "Individual" function, the operator can set all the movements of the machine - such as those of the first and second boom but also the rotation - according to his personal style of work, for a 100% electric and 100% personalized experience.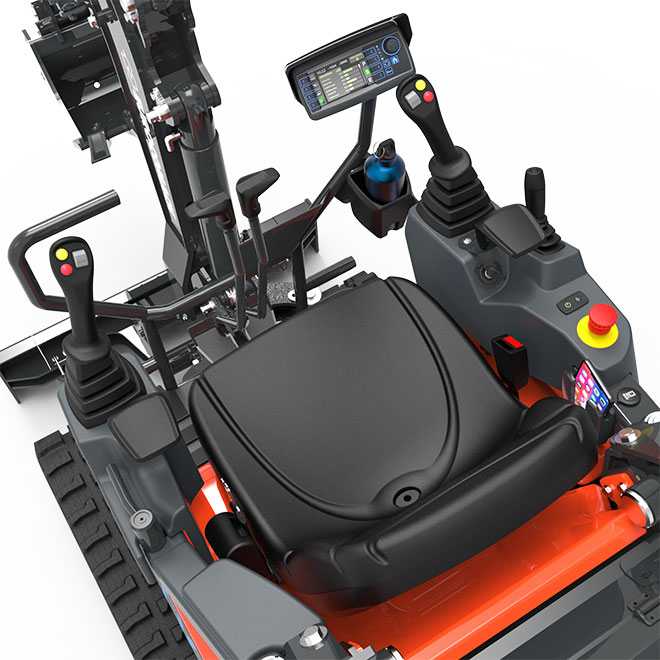 100% EFFICIENT
The Load Sensing hydraulic system, with Flow Sharing distributor, allows fluid and simultaneous movements as well as the management of the three different work modes (Economy, Standard and Power), a typical feature of higher segment models.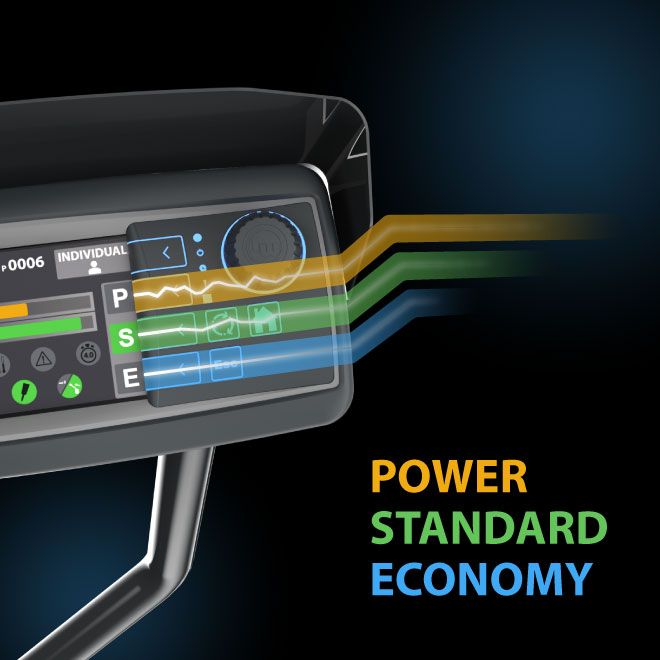 Do you need help?
If you need more information or if you want to request a quote, our consultants are at your disposal.
Contact us